Reviews
Be The First To Review This Product!
Help other Independent Living Care & Mobility Centre users shop smarter by writing reviews for products you have purchased.
Jobst Bella Strong Ready-to-wear compression glove for Lymphoedema Therapy. Durable and latex-free, the JOBST Bella Strong glove provides moderate compression for patients with mild to moderate oedema. Leveraging the advanced flat-knitting technology only ever seen in our custom garments, patients can now access that nearly custom feel in a ready to wear product.

Features and benefits:

Suitable for wearing on either hand for extra convenience
Seam free technology offering high wearing comfort
Firm hold for reliable and effective lymphoedema management
Special knitting structure allows air to pass, to enhance wearing comfort
The glove is available in eight sizes, covering a broad range of patients
Provides a perfect complement to the rest of the JOBST Bella Strong assortment.
Available in 20-30mmHg

NOTE: Due to health regulations, we cannot accept Garment exchanges.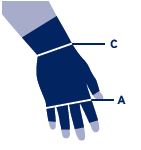 Specifications:
| Code | Size | A | C |
| --- | --- | --- | --- |
| 75291-10 | 1 | 16.6–18.0 cm | 15.6–16.7 cm |
| 75291-11 | 2 | 16.6–18.0 cm | 16.7–18.1 cm |
| 75291-12 | 3 | 18.0–19.5 cm | 15.9-17.0 cm |
| 75291-13 | 4 | 18.0–19.5 cm | 17.0–18.5 cm |
| 75291-14 | 5 | 18.0–19.5 cm | 18.5–20.4 cm |
| 75291-15 | 6 | 19.5–21.5 cm | 17.2–18.7 cm |
| 75291-16 | 7 | 19.5–21.5 cm | 18.7–20.6 cm |
| 75291-17 | 8 | 21.5–23.1 cm | 18.3–20.1 cm |