Reviews
Be The First To Review This Product!
Help other Independent Living Care & Mobility Centre users shop smarter by writing reviews for products you have purchased.
The JOBST Bella Lite Glove goes hand in hand with the JOBST Bella Lite sleeve. Durable and latex free, the glove provides gentle compression for patients with mild to moderate oedema.

Features and Benefits

Comfortable

Ultra-thin fabric and fine seams, the glove provides great wearing comfort.

Wide Range

The eight sizes provide a broad range of available options.

Convenient

It is suitable for either right or left hand for added convenience in size selection
Fingers can also be cut to length without fraying

Please click here for Measurements Table

NOTE: Due to health regulations, we cannot accept Garment exchanges.
JOBST Bella Lite Glove Measurement Table :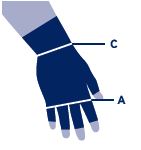 Circumference in cm
| Code | Size | A | C |
| --- | --- | --- | --- |
| 71026-00 | 1 | 16.6-18.0 cm | 15.6-16.7 cm |
| 71026-01 | 2 | 16.6-18.0 cm | 16.7-18.1 cm |
| 71026-02 | 3 | 18.0-19.5 cm | 15.9-17.0 cm |
| 71026-03 | 4 | 18.0-19.5 cm | 17.0-18.5 cm |
| 71026-04 | 5 | 18.0-19.5 cm | 18.5-20.4 cm |
| 71026-05 | 6 | 19.5-21.5 cm | 17.2-18.7 cm |
| 71026-06 | 7 | 19.5-21.5 cm | 18.7-20.6 cm |
| 71026-07 | 8 | 21.5-23.1 cm | 18.3-20.1 cm |